Golf
Golf Course Information
Overview
Built in 1931, St. Boniface Golf Club is a majestic traditional style golf course with tree-lined fairways, small sloping greens and strategically placed bunkers and water hazards. With 3 sets of tees ranging from 5700 yards to 6475 yards, the golf course provides a challenging and enjoyable test for golfers of every skill level.

Our signature hole is the par 5 17th. With the Seine River running along the entire hole and plenty of trees along the right side, it provides a very challenging tee shot. Whether you are planning to lay up or go for the green in two, be careful where you leave your second shot. Two bunkers await most balls that are heading for the putting surface and the river is there to catch any errant shots that are heading left. Once on the green, don´t expect an easy two putt. The green is sloped from back to front and has more than a few subtle undulations to force you to putt conservatively.

Click here to view our Scorecard. (PDF)
Click here to download our Course Layout. (PDF)

The Golf Shop
Welcome to the Golf Shop at St. Boniface Golf Club. From March to November, this is the centre of all activity at the club. With an extensively stocked pro shop, we can fill any golfer's wish list. St. Boniface has everything to play your best from companies such as Titleist, Nike, Taylor Made and more!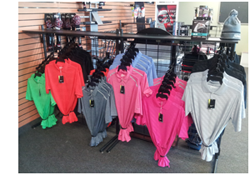 We also carry clothing that will keep you warm or cool and help you look your best while doing it! With all the new fabrics and technical designs from companies like Footjoy, Nike, AUR, Antigua and more.

St. Boniface Golf Club also offers a wide range of golf accessories and custom products at very competitive prices. If you are looking for logo'd products for your company or tournament, we offer top quality products with a high level of customer service to make your buying experience an enjoyable one.



Lesson Pricing and Information
Single Lesson
$45 / 30 minute lesson with Mike Dern or Troy Kapko
PGA Of Canada Head Professional: Geoff Kehler
PGA Of Canada Associate Professional: Mike Dern
PGA Of Canada Assistant Professionals: Troy Kapko and Jamie Leach

Ask us about our customized lesson packages, Member-referred program, and video analysis. We can tailor a lesson and practice regimen that will help you on your way to playing great golf! With four CPGA Professionals on staff, St. Boniface Golf Club is an excellent place to improve your game. Call the Golf Shop at (204) 233-4276 for more information on lessons with one of our Golf Professionals.
Gallery Taphouse & Grill
The view of the 18th hole from our second floor restaurant, bar and patio is so spectacular that we could think of no better name for it than The Gallery. We are thrilled to offer a totally unique food and drink menu that features our "legendary burgers and sandwiches", six different beers on tap, premium house shots and top-shelf spirits, as well as an extensive wine list with a vintage for every palette.

Chef Ian Wong and his experienced culinary crew have been plating incredible breakfasts, lunches and dinners for years. It's hard to believe, but the product coming out of our kitchen seems to get better and better every day. As a complement to our regular menu, Chef Ian rolls out mouth-watering features on a daily basis, so unless you stop by regularly, you may miss out on one of your favourites.

You'll find our serving staff to be extremely knowledgeable, courteous, friendly and eager to provide an outstanding experience. For more information on The Gallery Taphouse and Grill, please call us at (204) 233-2497 ext.17.
Please click on a thumbnail for a closer look.
Employment Opportunities
St. Boniface Golf Club is not currently hiring for any positions.

Please forward resumes to info@stbonifacegolfclub.com, please be sure to indicate which position you are applying for.